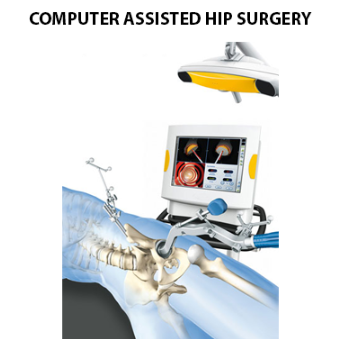 Many studies have shown that Computer-assisted (Minimal Invasive) Hip Replacement surgery have numerous benefits over other techniques. The technique offers a well-aligned and balanced hip joint that are likely to last longer.
Dr D K Das an accomplished orthopedic surgeon is well trained in computer -assisted (Minimal Invasive) Hip Replacement surgery. He conducts the surgery with clinical precision and delivers quality care to his patients.
There are two types of hip replacement procedures:
Minimally invasive hip replacement Computer-assisted hip replacement
Benefits of Computer Assisted Hip Surgery
Improved reliability of reconstructed limb length
Improved reliability of prosthetic component alignment
Fewer prosthetic hip joint dislocations
Shortens hospital stay
Very less recovery time (patient is able to walk within 3 days of surgery)
Increases the precision and accuracy
Decreases errors
The video shows surgery using traditional instrumentation and computed assisted navigation.